Daniella's beary and beastie adventure
Appreciating the traditional teddy but pulled in a different direction to create something a little less conventional has led to the fascinating Barboni-Bears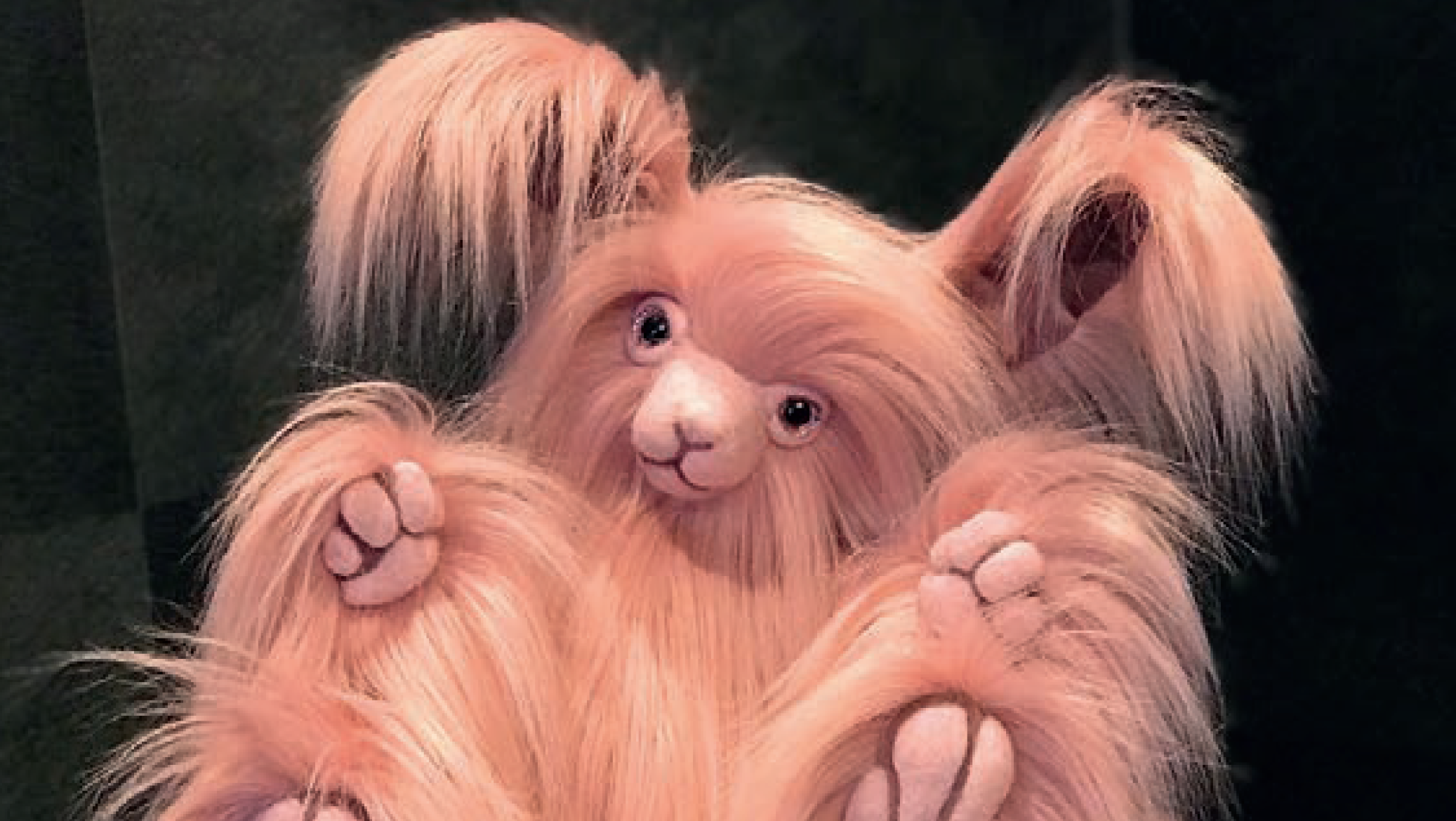 Appreciating the traditional teddy but pulled in a different direction to create something a little less conventional has led to the fascinating Barboni-Bears.
I live in Belgium together with my lovely husband, who supports me in everything I do, and our little boy who is three years old. My 'Bear Adventure' started in 2013, when a good friend of mine convinced me to buy a teddy bear making kit. She thought it would be something appropriate for me. At the time, I knew I loved these little sweet furry bundles of joy, but I would never have imagined that so much work goes in to making them!
However, this really triggered my interest. I have always been a very creative person. Although I really love a well-made traditional bear, I soon discovered that this was not the path for me. I absolutely love fantasy creatures, such as dragons, fauns, foxes…but I also love a panda in the most whimsical colors or a teddy bear in steam punk style. So, with this in mind, I started to look for patterns but ended up drawing my own! It takes an immense amount of time creating a pattern from scratch for a beastie that only lives in my imagination. I am always adjusting my patterns with every beastie or bear I create so every creature is a one of a kind. There is no fun for me in creating the same creature twice. Some of my beasties are made from 70 single pattern pieces!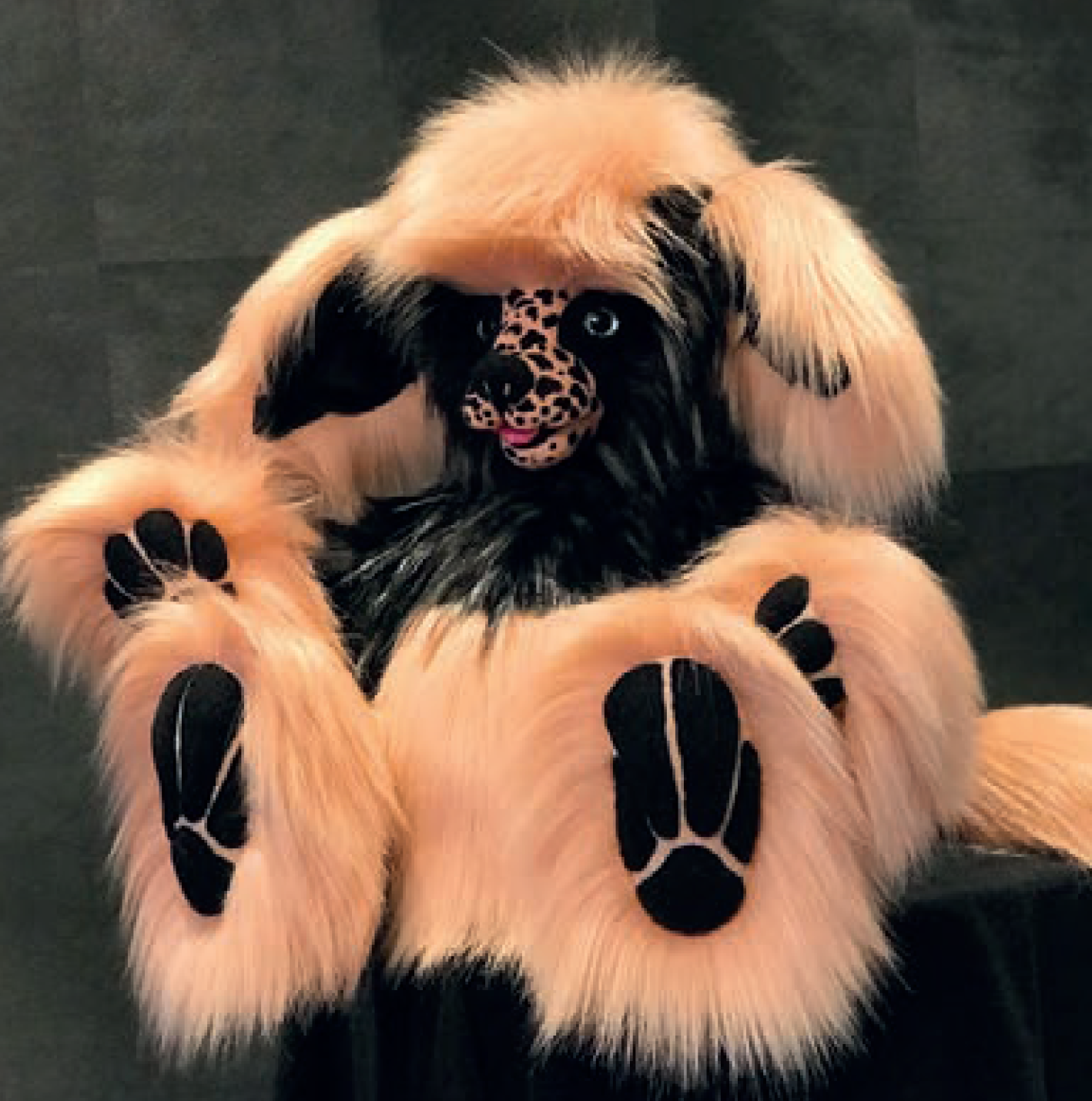 My faces are mostly needle felted, this is loose wool that is stabbed with a needle until it takes shape. It takes a lot of time but you can give so much expression in the faces, and also paw pads can be made this way. I can spend hours on needle felting or needle sculpting the paws and feet! It gives such a nice detail to the bear.
Most of my bears are five-way jointed and arms, legs and ears are wired so they can be placed in different positions. This also makes it possible for most of my bears to stand on their own. Finding the right fur can be quite challenging. I am constantly on the lookout for something new. Over the years I have collected a full room of gorgeous looking faux furs. So when I need inspiration for a new project I just walk in and get visions in my head of how it would look when finished. I mostly work with faux fur because I love the fur to be very thick, soft and shiny; also, faux fur comes in all varieties of colors and lengths so I can combine and create all sorts of different styles.
For most of my creations I make my own eyes…I absolutely love big sparkly eyes! I buy transparent glass eyes and apply layer up on layer of different sparkles or paint to create the style I am looking for. I just love this fine and detailed work! Eyes are the window to the soul so I take great care that the eyes are just perfect. Although I do not make many bears that require clothing, I love designing little bear dresses! I can spend hours on detailing them. Most of them are made in a shiny satin fabric or a very special kind of cotton.
Currently I am a full-time dog groomer, so I can only work on my designs in my spare time - in the evenings, at weekends or on vacation. But that being said, my job also helps me a lot when it comes to grooming the fur of my bears. I have taken part in many competitions in dog grooming all over the world and achieved many awards and best in shows!
It has also helped me to have insight of the right balance between my pattern and the length of the fur to make my creatures more elegant. My dream is to combine my two professions and become a part time groomer and a part time bear artist - I am working very hard to achieve this, but I know this will take time.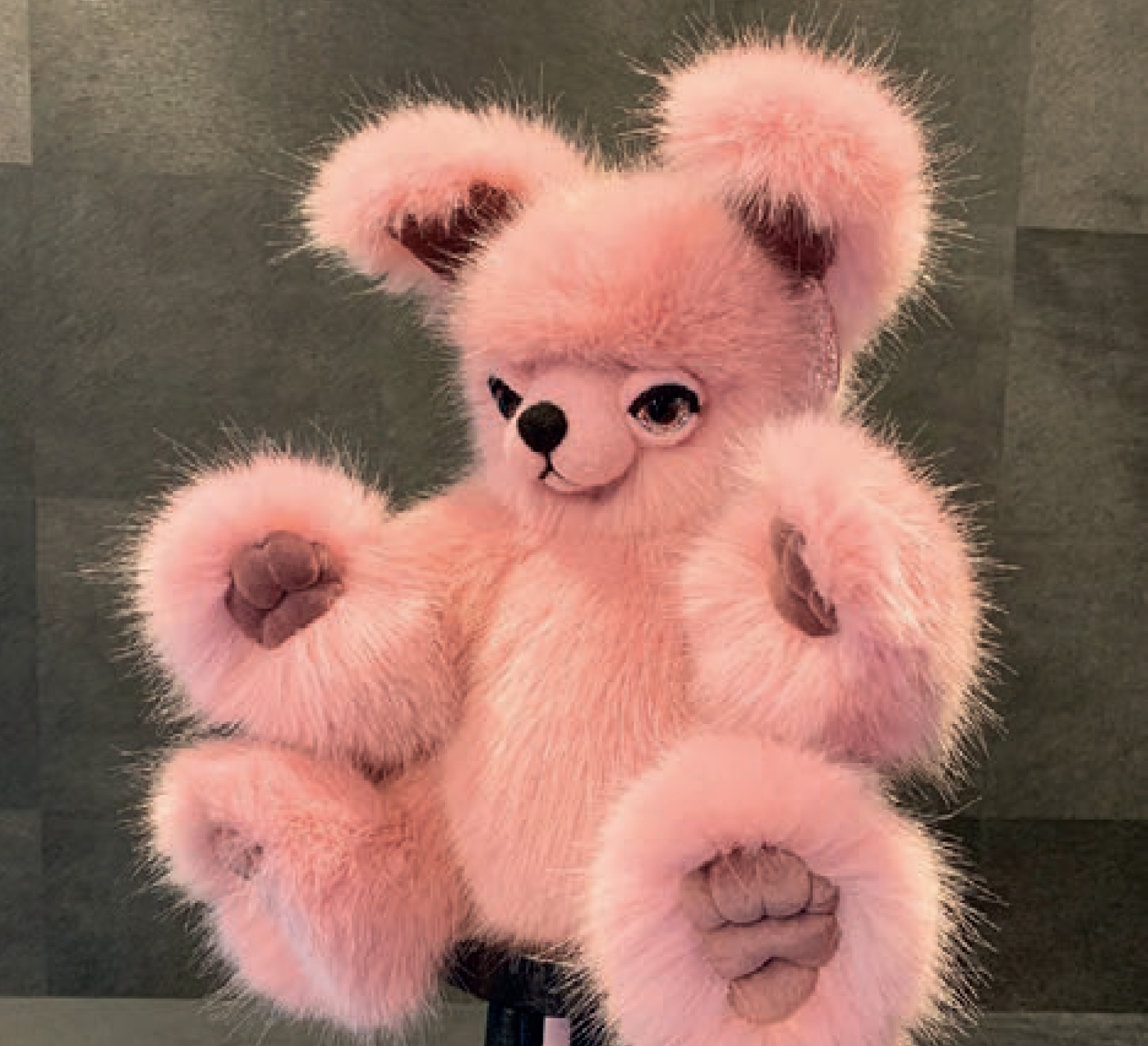 In 2018 I decided to show my work to the outside world and started to do some Teddy Bear fairs. I created my own logo and created a special tag so that my bears would always be recognizable. I was very nervous about showing my work because my bears and creatures are so very different. However, at my first show I got so many nice compliments, even from fellow bear makers, that my stress soon became excitement and pure joy! Since then I only looked forward and created my own web page.
I must say, I still find it very difficult to let go of my creations! So much time and love has gone in to every single one of them. I trim all the edges of every single piece of fur so I have a very nice seam and I sew everything by hand, so I have full control over every single one of them. Every detail is very important to me!
For me it is easier to let one of my creations go at a fair because you see people picking them up, oh so carefully, and fall in love, head over heels… this moment is so magical!
When I start designing a new one, I put one or two with me on the table, to inspire me. I absolutely love looking at them, brushing them up again, and yes, from time to time, giving a little hug here and there!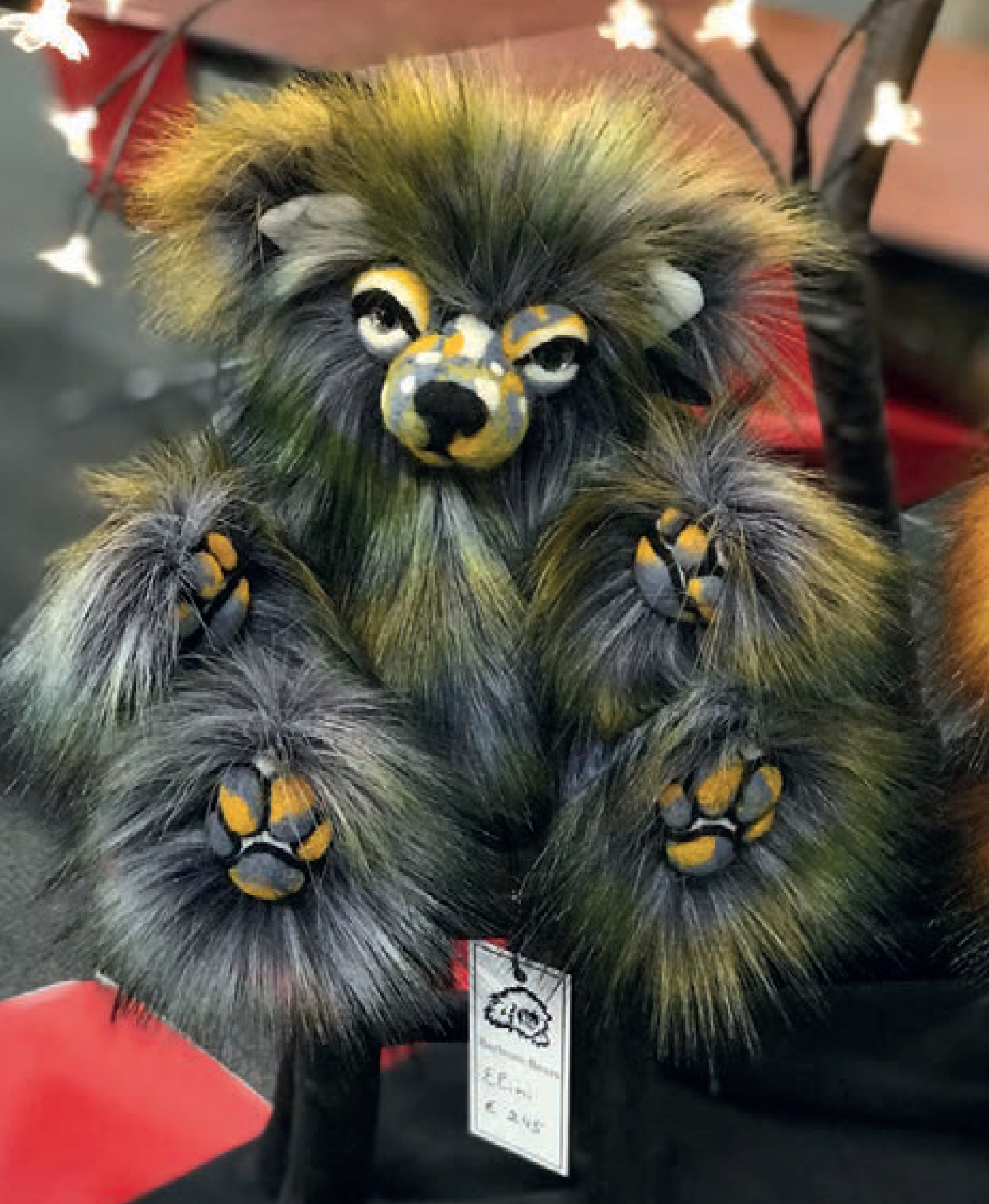 I know I am just starting my adventure in the teddy bear world, but I hope people will appreciate my work and will love my style of creating these bears and beasties. I am most proud of the creations that take the longest to make, such as my black dragon-like creature. He stands at 55 cm high, is 70 cm long and has a total wingspan of over one meter! His wings are inlaid with hundreds of real Swarovski crystals and can take any possible position. Also the pink one, standing on her hind legs. I just finished her - she has over 70 individual pattern pieces. This is a totally new design I worked out and I hope I can work further on these kind of creatures.
I would love to participate in more teddy bear fairs all over the world and perhaps do some competitions. I am also working hard to finish creating a workshop space and hope to start giving workshops at the beginning of 2021. I think it will be great fun to share my knowledge with other bear enthusiasts!
Barboni Bears by Daniella Vereeken
email: info@barboni-bears.be
web: https://barboni-bears.be