Katherine Hallam's Colourful Characters
Hallam's quirky critters are defined by their sunny optimism and the trademark crystals in their noses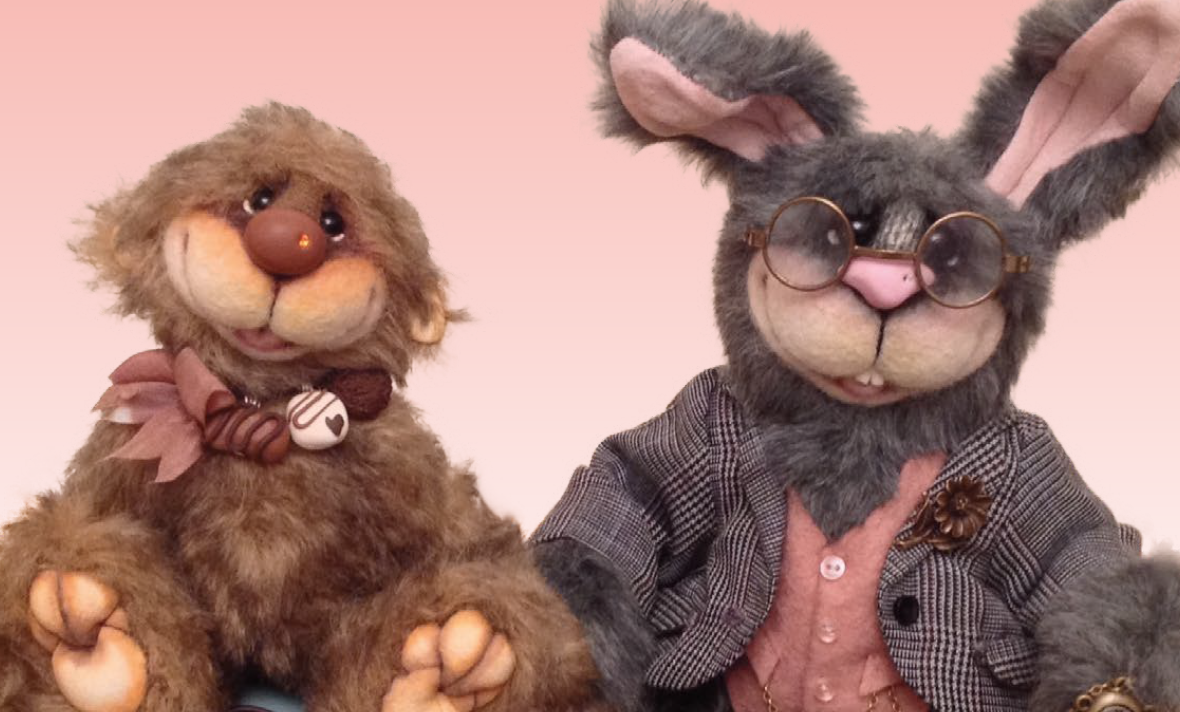 One of the reasons why Katherine Hallam is such a successful bear artist is that she genuinely enjoys what she does. Actually, "enjoy" is too modest a word. She is thrilled, excited, and overjoyed to be immersed in the world of teddy bears and collectibles.
Self-described as a "big kid at heart," Hallam works under the name Katie Rae Bears, a reminder and celebration of her own beloved childhood days. "My name is Katherine and my middle name is Rae. When I was little, my dad used to call me 'Katie Rae.' Of course, it makes sense that I would take this as my business identity," she said.
Born and raised in Sheffield, England, young Katie Rae adored her doll collection. She admitted that "bears came to me when I was an adult," but she quickly made up for lost time. Self-taught as an artist, Hallam developed a real skill at bringing bears to life. For 30 years, she's been imagining all manner of mohair marvels and then inviting them to come out and play!
"I have always sewn and done arts and crafts. In the last few years, I've moved to making my bears full-time. I love coming up with an idea that starts in my head and then comes out of my hands. I keep a large sketchbook that I put ideas into," she said. "Recently I have been creating larger and more intricate pieces. My 'Monsters Under the Bed' piece, for instance, was such good fun to do! I love letting my imagination run riot and then figuring out how to make the piece work. For instance, I had to figure out how to get the bed to stand on top of the monsters! It was a really fantastic challenge."
Hallam's quirky, offbeat sense of humor transformed this creepy nighttime scenario into something cuddly, comical, and collectible. She brings these same qualities to all her creations. "I would describe my bears and critters as unique, modern, and cute," she said. "Those are the adjectives that I would apply. Lately I've been doing more sculptural pieces - pieces that are more elaborate and tell a story.
Many of Hallam's most popular designs have been anything but realistic. They have often been fabulous fashion plates and bejeweled divas. "All my bears have a crystal in their nose, and I make a few bears each year that are my Katie's Diamond Collection. These bears have actual diamonds. The Katie's Diamond bears are my large girls, and they are the more elaborate pieces. They are very intricate and special."
Communicating and keeping in touch with her fan base has always mattered to Hallam, and the evolution of Facebook and Twitter has helped her to achieve maximum interaction. "I absolutely love the buzz from collectors and from other artists," she said. "I love to correspond with them, but I really love to travel and meet with them.