Cut from a different cloth
Six of Steiff's lesser-known teddy bear fabrics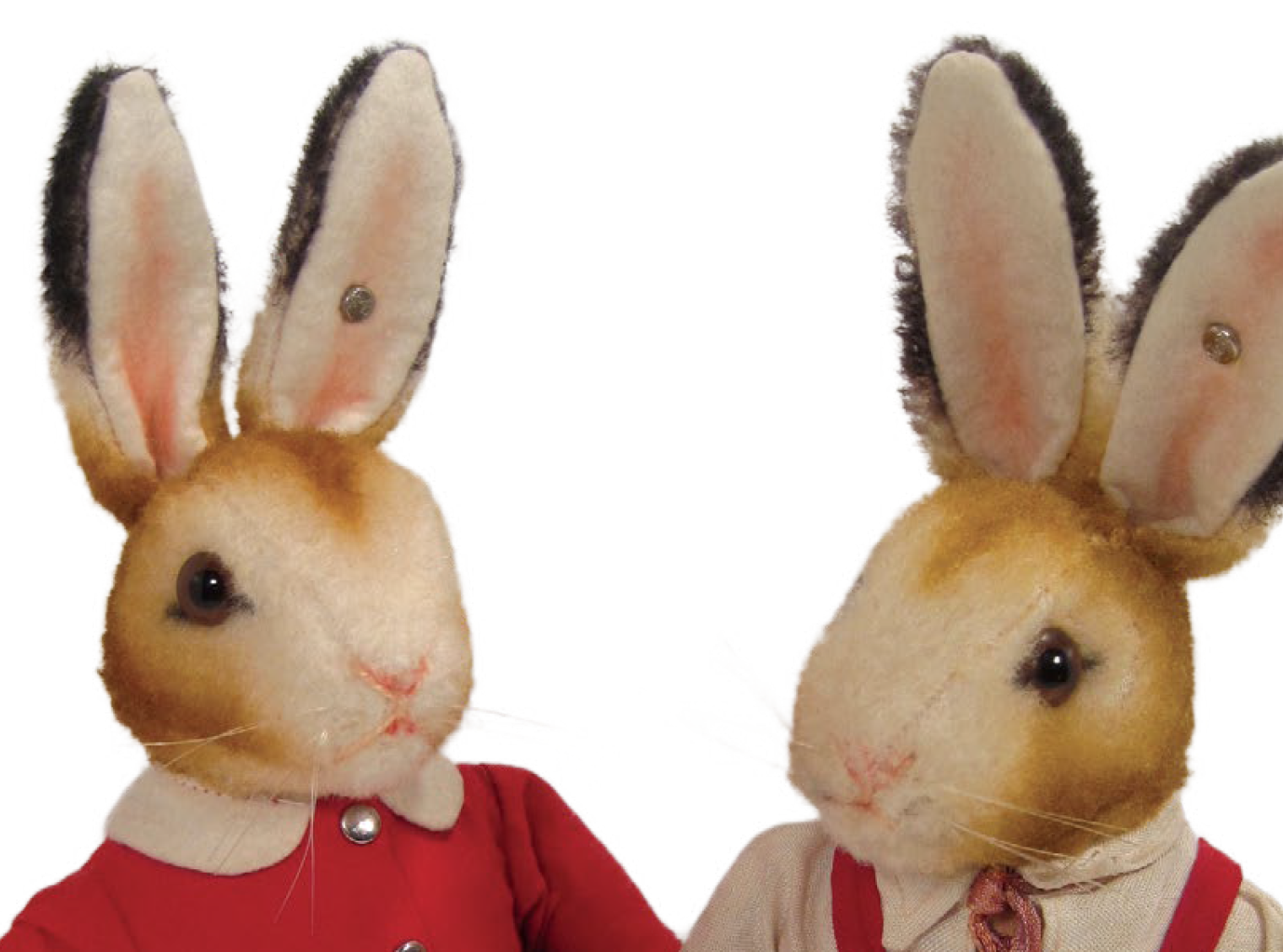 Steiff products seem to go hand-in-hand with fine wool felt and mohair fabric. The Steiff Company has a long history with felt; Margarete Steiff launched her company in 1877 specializing in felt clothing, specifically warm felt underskirts for the winter season. Mohair, which became the fabric of choice for most Steiff bears and animals from 1903 onward, was instrumental in both launching and branding the company as a world-class toy manufacturer.
However, there have been periods in the company's long history when these key fabrics were in short supply, tightly rationed, or simply not available. These times have generally been just before, during, and just after worldwide conflicts, when limited felt and mohair supplies were allocated to such military uses as uniforms, hats, blankets, and other items. But Steiff has always found ways to get the job done, even under the most difficult circumstances.
Over the past 100 years, the company has turned to a number of interesting substitutes for its legacy fabrics. Today, items made from these alternative fabrics are often the crown jewels in enthusiasts' collections, given their rarity, place in history, and unique presentation and backstory. Here are six "lesser known" fabrics Steiff used during periods of hardship and what makes them so interesting from the design and historical perspectives.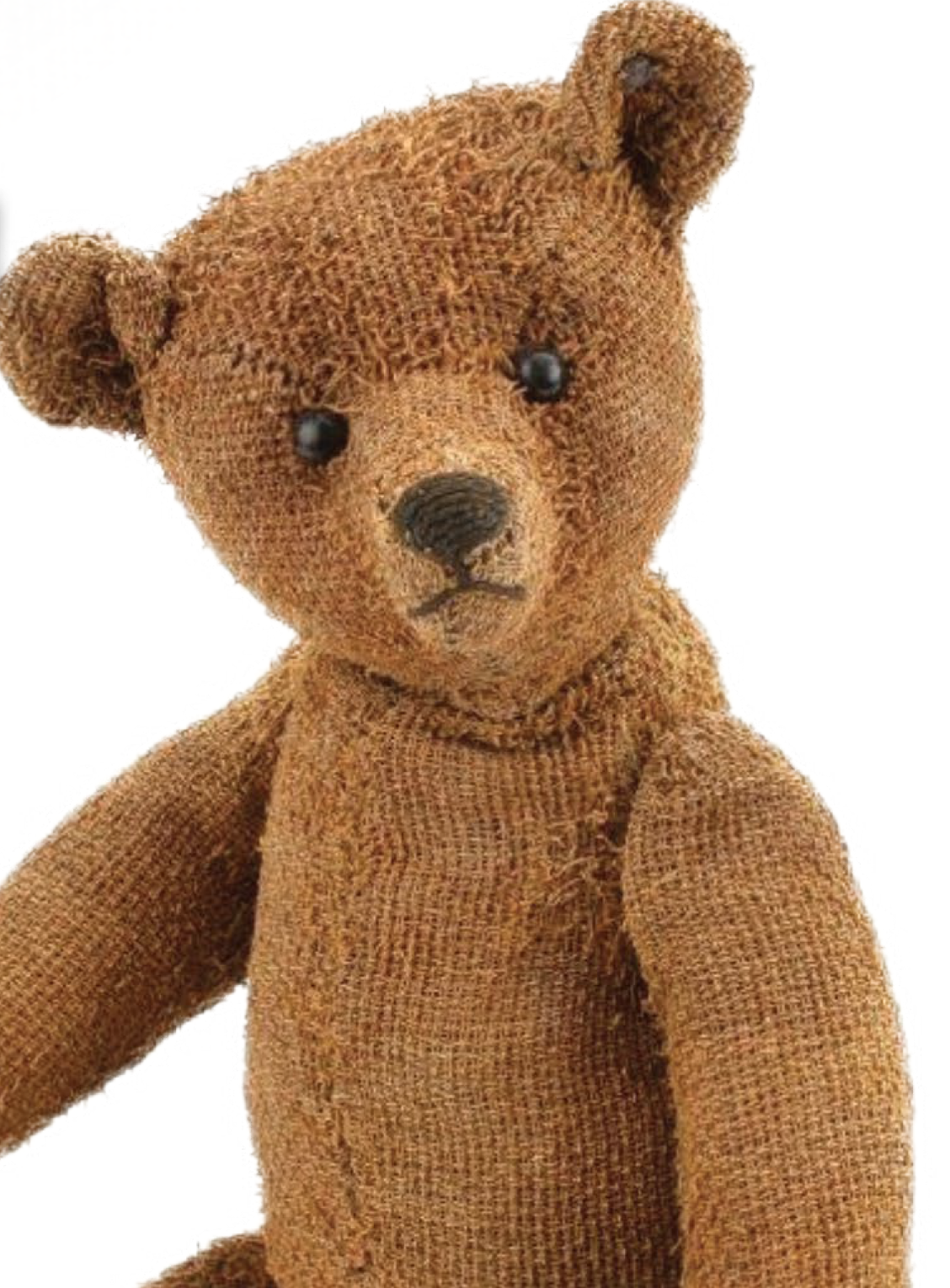 Paper Plush
Paper plush consists of a cotton backing and a front pile made from wooden paper fibers spun into threads. Vintage paper plush feels and looks like an old, dried out, and crunchy facecloth. Steiff used this "improvised" fabric in its line from 1919 through 1921.
During and immediately following World War I, Steiff 's soft-toy production ground almost to a halt. To continue manufacturing, Steiff was forced to come up with some alternative products as well as materials. Given the abundance of wood in the area, the company started producing things like building sets, puzzles, pull toys, and children's furniture. Steiff also found a way to produce a "paper plush" fabric from local products, enabling it to continue its soft toy production on some level.
Steiff produced models of its most popular standard-line bears, dogs, cats, and rabbits in this unusual paper plush fabric. According to company records, Steiff made 19,556 total bears in paper plush, in three sizes overall. Today, original paper plush items are extraordinarily rare and make headline news when they appear at auction. In 2013, Special Auction Services in London offered an original Steiff paper-plush teddy which realized about $10,000.
Wool Plush
Wool plush is a soft plush fabric consisting of a cotton backing and a wool front pile. Vintage wool plush has a short, bumpy texture and is more "continuous" and denser than mohair, which tends to have a more bristly feel to it. Steiff featured items made in wool plush in their catalogs from the early 1930s through 1966.
It wasn't unusual for Steiff to substitute wool plush for mohair on its popular standard-line items in the 1930s and early 1940s, and again in the early 1950s. Although many examples were cataloged and recorded, a significant number of wool-plush items don't appear in today's standard Steiff reference books. As a result, these undocumented wool-plush rarities, although not terribly old by antique standards, are always exciting finds for collectors.
Wool plush has a distinctly old-fashioned look to it and takes airbrushing well. It's durable and seems to be somewhat less attractive to insects than mohair plush. It also appeared in the line for a relatively long period of time. As such, vintage wool-plush examples in very good to excellent condition appear on the secondary market with some regularity and are generally affordable. The last item to sport this fabric was the company's 60 cm (23 ½-inch) standing rabbit doll couple; this pretty pair appeared in the postwar line from 1951 through 1966; their smaller 25 cm (9 ¾-inch) rabbit doll cousins appeared through 1955.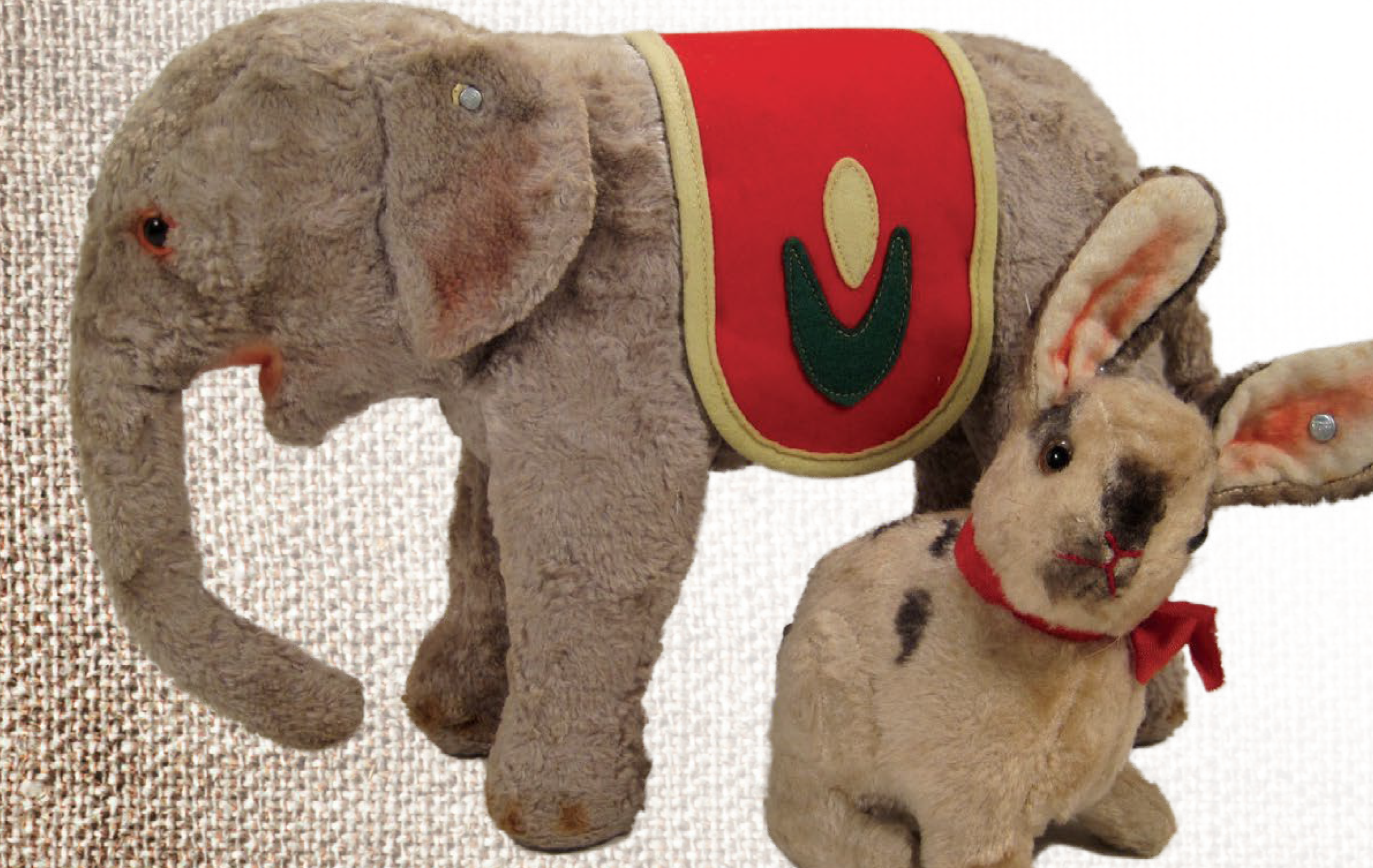 Artificial Silk Plush
Artificial silk plush is inexpensively produced soft plush fabric made from rayon synthetic fibers. In good condition, artificial silk plush usually has a short, smooth, shiny, and continuous-feeling pile, although longer piles were also manufactured. Artificial silk plush in used or poorer condition generally pills, loses its sheen, and shows much playwear. It was used by Steiff for toy making in the mid-1930s through the early 1950s.
Steiff was forced to get creative with materials again around and just after World War II, as traditional toy-making fabrics were not available. During this period, Steiff improvised with artificial silk plush, sometimes euphemistically referred to as "art silks." Artificial silk plush was a less expensive and poorer quality option than mohair, but it was available on commercial scale. The "silk" most likely refers to the shine and softness of the plush, which took airbrushing well. However, this synthetic material tended to lose its sheen and good looks quickly; as a result, it's unusual to find Steiff artificial silk plush items in great condition today.
Steiff manufactured a large range of its most beloved designs traditionally made from mohair in this substitute material, including teddy bears, rabbits, cats, dogs, ducks, elephants, lions, and dogs.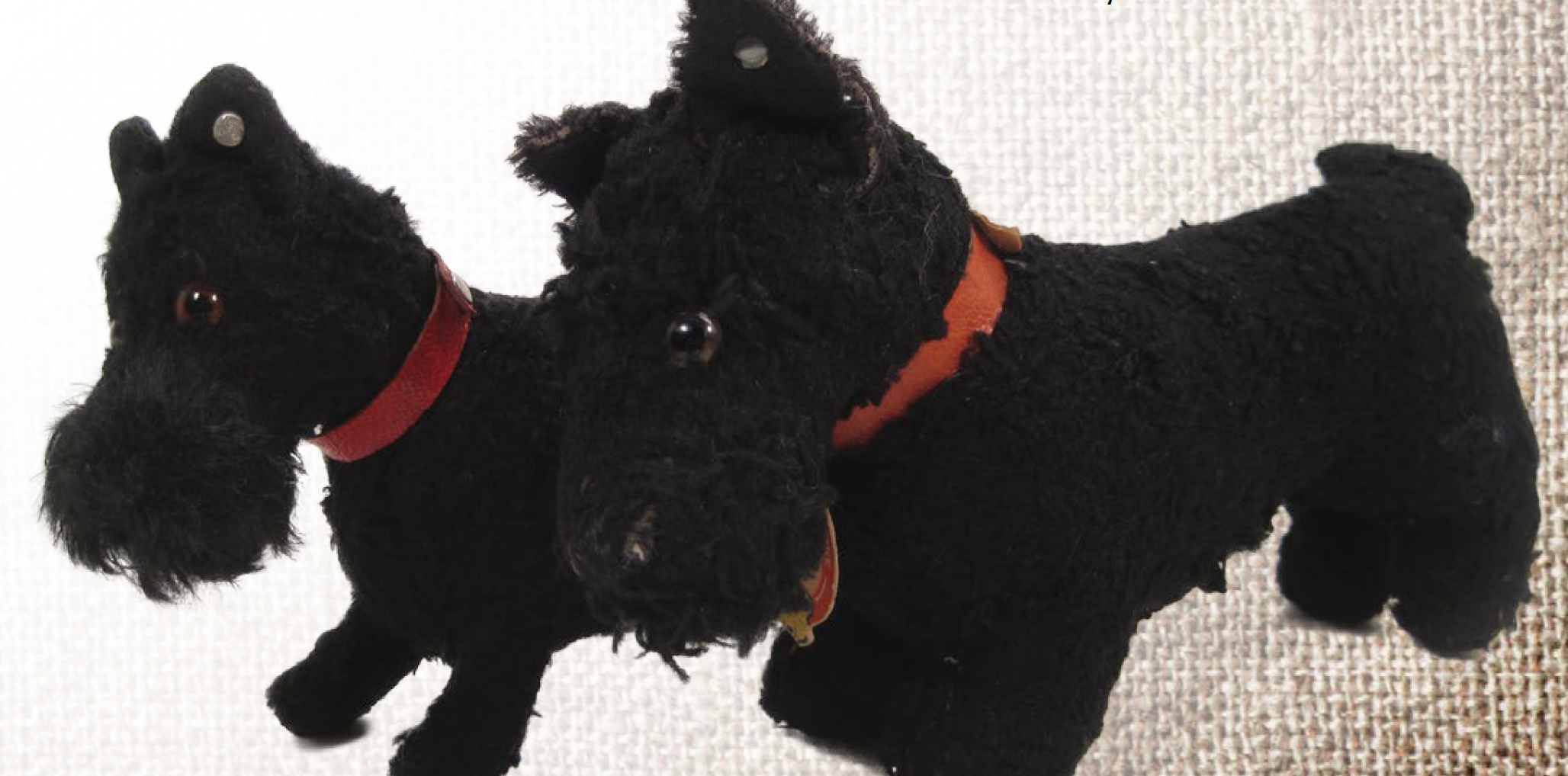 Cotton Plush
Cotton plush is a soft plush fabric consisting of a cotton backing and front pile. Vintage cotton plush has a dull appearance and feels and looks like a gently used cotton bathroom towel that has been through a number of laundry cycles — a little bumpy in texture but with an overall and somewhat smooth feel. It can be found on Steiff items distributed in the timeframe from about 1948 through 1953.
Cotton plush is a relatively rare Steiff alternative fabric. This author has only seen a handful of items using this material, including a brown Teddy Baby bear and a pair of black Scotty dogs. In these three cases, this material does not appear terribly durable, showing more loss, matting, and wear than would be expected on these otherwise sound items.
For example, the cotton plush around the Teddy Baby bear's paw pads shows some balding, while the paw pads themselves are in all-original, even like-new, condition. Usually paw pads and foot seams are the first areas on beloved teddy bears to show wear and tear! It's possible cotton plush was also used on other period designs usually produced with long or shaggy pile fabric.
Linen
Linen is an inexpensive woven fabric made from the fibers of the flax plant. Vintage linen looks like simple thin tan-colored woven fabric. Linen can be seen on a number of Steiff items from the mid-19-teens and then again the early 1940s through the early 1950s.
Linen itself was not used as the primary material on any commercially made Steiff item. However it was used as a substitute for felt in two very interesting ways. First, linen was used on the limbs and bodies of the company's popular — at the time — otherwise all-felt dolls around the time of World War I. Felt was still used for the dolls' heads and hands, but not anywhere that was covered with clothing, like the arms, legs, and torsos. Then, just before and just after World War II, linen was used instead of felt on the paw pads of some of the company's teddy bears.
Vintage Steiff dolls and bears detailed with linen in place of felt are of historical interest and usually have great appeal to collectors as well. It is a double bonus to find an original artificial silk plush or cotton plush Steiff bear with linen paw pads. In 2014, auctioneer James D. Julia sold a late 1940s-era brown silk plush teddy bear with linen paws and Steiff ID for $2,844.
Stockinette
Stockinette is an inexpensive machine-knit elastic fabric used in the past for making stockings and undergarments. Stockinette looks and feels like flesh-colored old-fashioned panty-hose material. Steiff used stockinette briefly in the 1940s.
As far as this author can tell, this unusual material was only used on one Steiff line, a series of floppy animal dolls. Rabbits and bears were produced in this wartime era design. These toys were 10 inches tall, stuffed with excelsior, head jointed, and had dangling limbs. Their heads, hands, and feet were made of artificial silk plush while their bodies were made of stockinette. Each wore a simple inexpensive calico dress made from synthetic material. These floppy animal dolls have a distinctly ephemeral look and feel to them.
It's interesting to note that these stockinette animals do not appear in any standard Steiff reference books. As such, their exact dating is difficult. Toy experts think that they were produced sometime in the early to mid-1940s. Given their low-quality materials, extremely fragile construction, and delicate appearance, it can be assumed that they were manufactured during the most trying of times and circumstances. Wartime-era floppy animal dolls in very good to excellent condition with IDs are rarities on the secondary market. In 2012, the auction house Teddy Dorado in Germany sold a fine example with IDs for about $1,200.
Written by Rebekah Kaufmann