Bears from out of the Forest
Hairdressing just wasn't cutting it for Denise Purrington, so she decided to use her creative skills cutting fur and has never looked back.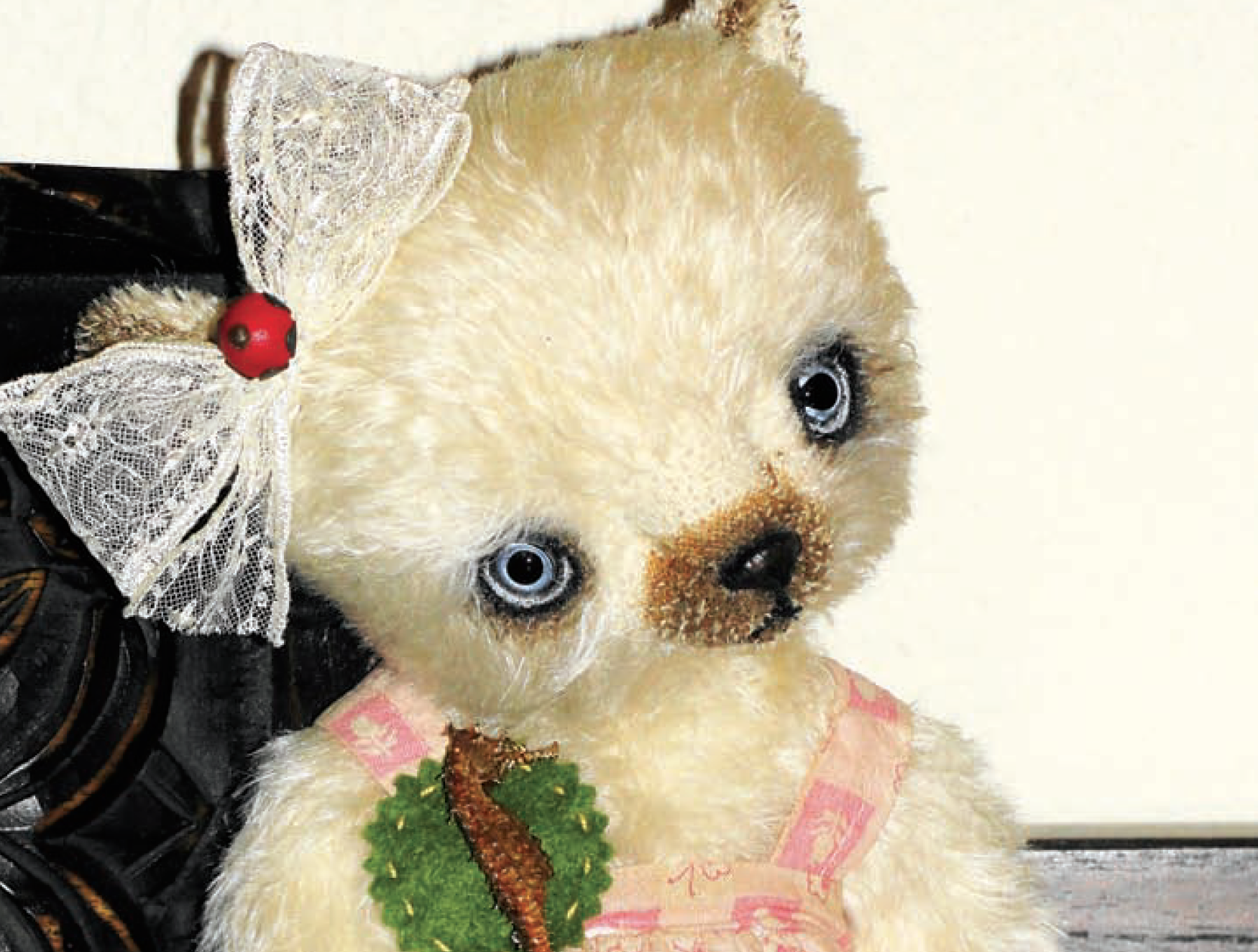 I wonder how many of us can empathise with someone who feels they have always been creative but wasn't sure exactly what they were best at. Denise Purrington of Out of the Forest Bears is one such creative person. "I have always been an artist, loving to draw but didn't know where my niche was. Desperately trying to find my way, I tried everything from woodblock dolls to children's clothing and hats." This continued for a period of just over two years. Then in mid-1995, the receptionist of Denise's doctor invited her to a teddy bear show in Burbank, California. "Let me tell you, I was in complete awe and totally blown away. I was hooked and knew this was what I was going to do for the rest of my life." Quite a 'eureka' moment. Denise had already made a couple of teddy bears from a purchased pattern which she redesigned to make her own. "The first one looked just like a Schnauzer. I still have him and his name is Harry. I have kept him for good luck."
Denise took herself excitedly back to the drawing board and managed to create enough bears to attend her first teddy bear show which was the Linda Mullens show in San Diego, in the winter of 1996. "I was thrilled to sell most of these first bears. I haven't stopped since. It was then that I got bitten by the Bear Bug and I don't think I'll ever be cured!"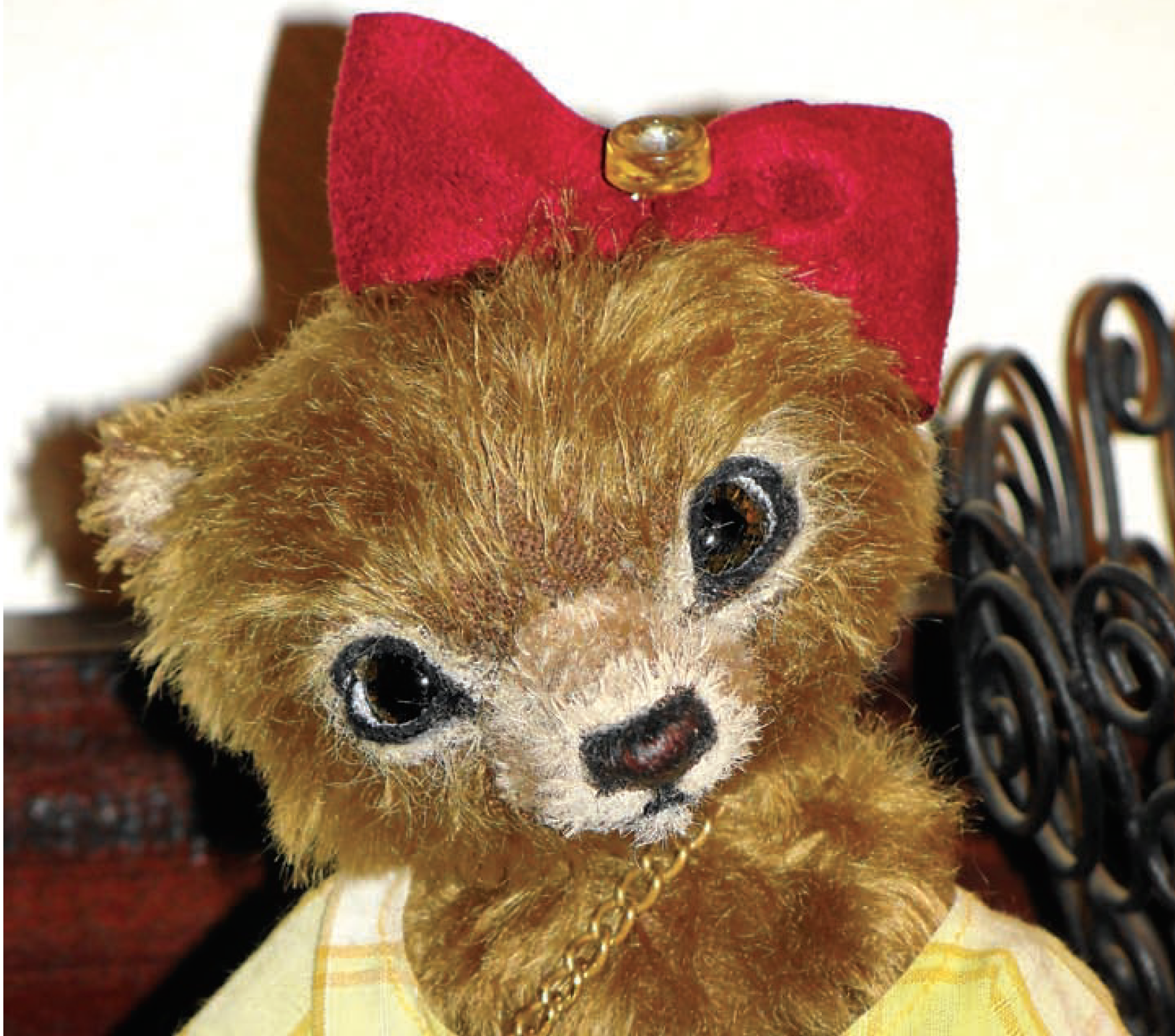 Denise's mum was a keen stitcher and craftswoman and taught Denise to sew as a child although she said she didn't really have the patience for it. "My passion was always for drawing – so it's quite amazing that I now sew for a living!"
Prior to bear making, Denise had been a hairdresser for around ten years but just didn't find it as fulfilling as she had expected. So she swapped hairdressing scissors for fur and a sewing machine and set up her new business. "I lived in California then, when I was married to my son's father for nine years. I have been back in Washington since 1988 and I live in Bellevue, where I was born and raised." Denise shares her home with her boyfriend Dean, who she has known since high school and her Yorkshire Terrier Monty. Her 26 year old son moved back to California last year and Denise misses having him around.
Denise is lucky enough to have her own studio space. "The cutting and any sewing machine work is done in my studio, which is a modified dining room. A good portion of supply storage is in this room as well and the rest is scattered throughout our tiny apartment."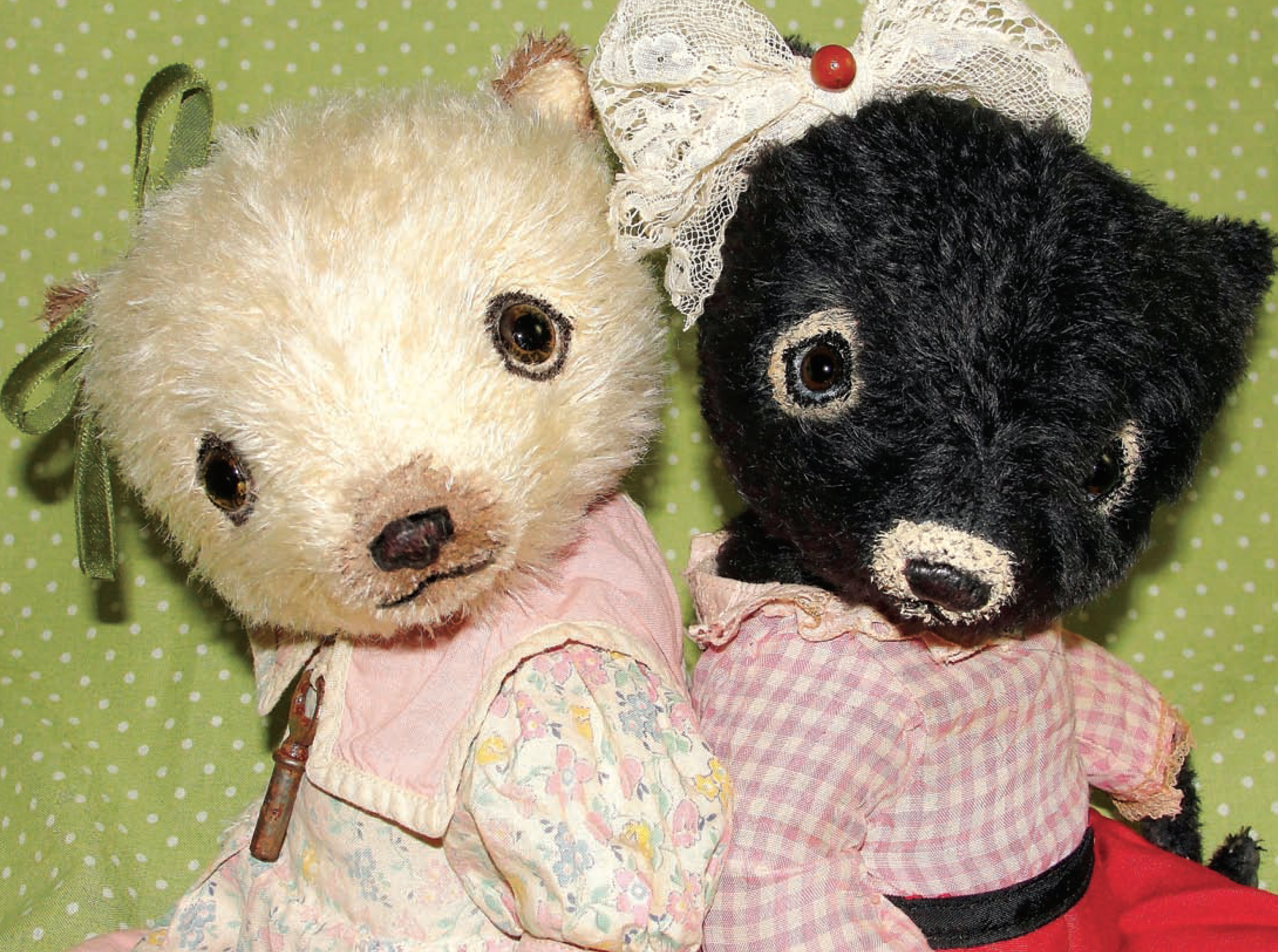 Hand sewing is done sitting on the couch. "In front of the couch is my wonderful coffee table that stores all of my hand sewing and painting supplies. It has drawers and shelves for five storage baskets. It's so nice to be able to easily put everything away when I'm done sewing for the night. And I do mean night – I am, and always have been, a night owl. It's pretty common that I work till three or four in the morning." A link on Denise's website www,denisepurringtonbears.com takes you to a virtual tour of her studio. "This was part of a project undertaken by a Seattle area photographer in a quest to photograph the studios of every Seattle artist."
Photography is a big hobby of Denise's too. "I have done quite a few photo illustration art pieces. You can see some of my work in my Etsy shop." Denise also enjoys taking long walks on the beautiful trails in her local area and she has an interest in interior design. One very creative lady. As for her bears, Denise doesn't feel she has a particular style. "I love to change things up all the time. I create realistic, whimsical and fantasy bears – and I love trying new ideas and experimenting."
Denise recently did just this, with a completely new venture. "After having the idea in my head for about three years, I finally decided to get to the drawing board with my idea for my new Shadowbox Puppet Bears. I have completed two so far and have had a good response to them." These bears are traditional bears except for their hand-sculpted paper clay arms and legs and they are strung in their shadow boxes, ready to entertain. "I've had such a blast watching this idea come to life."
For her more conventional bears, Denise uses mohair, recycled fur coats and vintage finds that she searches out from markets and charity shops. "I just love to create whatever is in my head at the time or bringing a collector's idea to life. The ideas usually just come to me and I'll sit down and sketch immediately. Sometimes the inspiration could be a special theme or a newly acquired vintage outfit. Other times I'll see a photo of a real bear somewhere that I just have to try to recreate."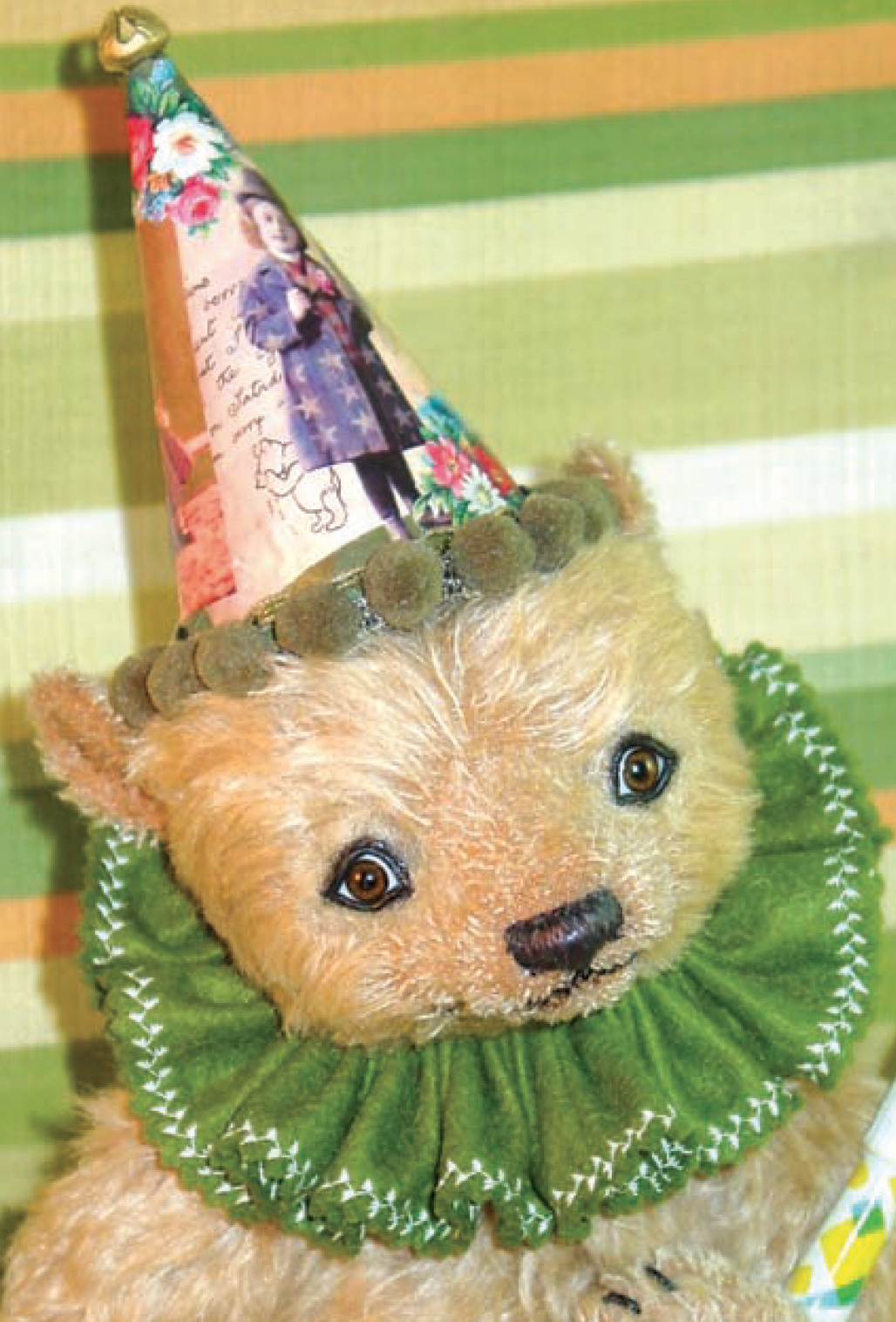 When Denise started out she made quite a few limited edition bears. Now her bears are mostly one of a kind and have evolved quite a bit since those early days. "I think I mainly have a lot more variety of designs than I had back then. The thing I enjoy most is bringing a new design to life and receiving wonderful emails from my new Bear Moms and Dads. Besides my son, this is one of the most satisfying things I have ever done in my life. I am so humbled and honoured to be able to create these little creatures and to see the joy they bring to so many people."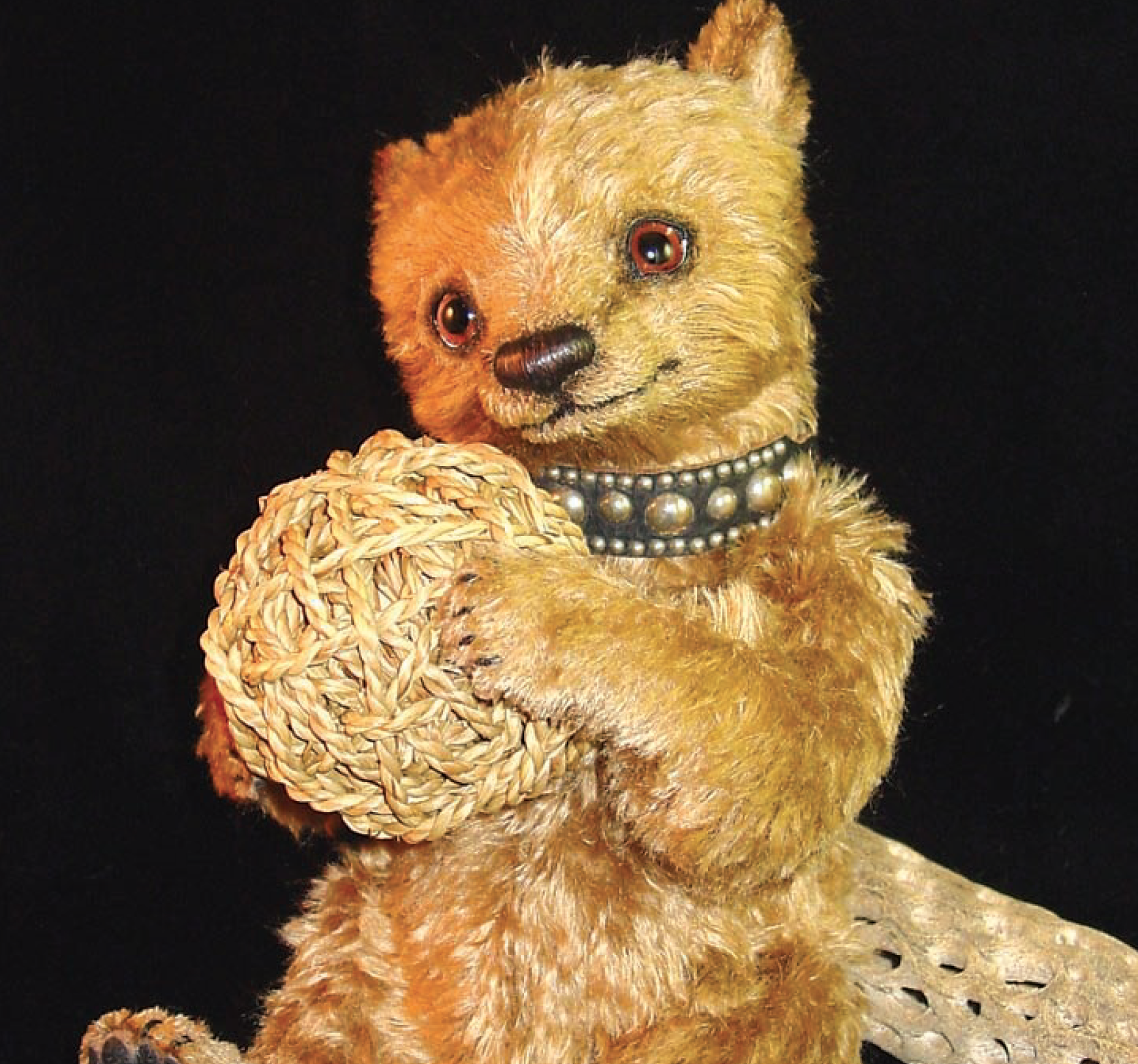 An avid bear collector herself, Denise has around 50 very special bears. "Most have been made by good friends. They mean so much to me and most have a story behind them." Apart from her first ever bear, Harry, Denise has kept another two of her own creations. "One is called Winston and the other is the first realistic bear I made, called Denali. I have kept them all for good luck and to remind me how far I've come."
Denise makes around 40 bears each year and absolutely hates running behind with her orders. She sells through her website, Etsy, eBay and occasionally through shops. "I think, as with most businesses, there are always struggles and learning curves. Perseverance is the answer. When things get tough, reinvent yourself. I believe it's very important to try and keep up with the market. There are new artists coming along every day." In fact, this is really Denise's motto for the future. "To stay fresh – I hope and pray I can do this forever."