Teddys in a bad state of repair
Choosing a restorer for a precious bear can be a risky business - choose wisely and on recommendation if you possibly can.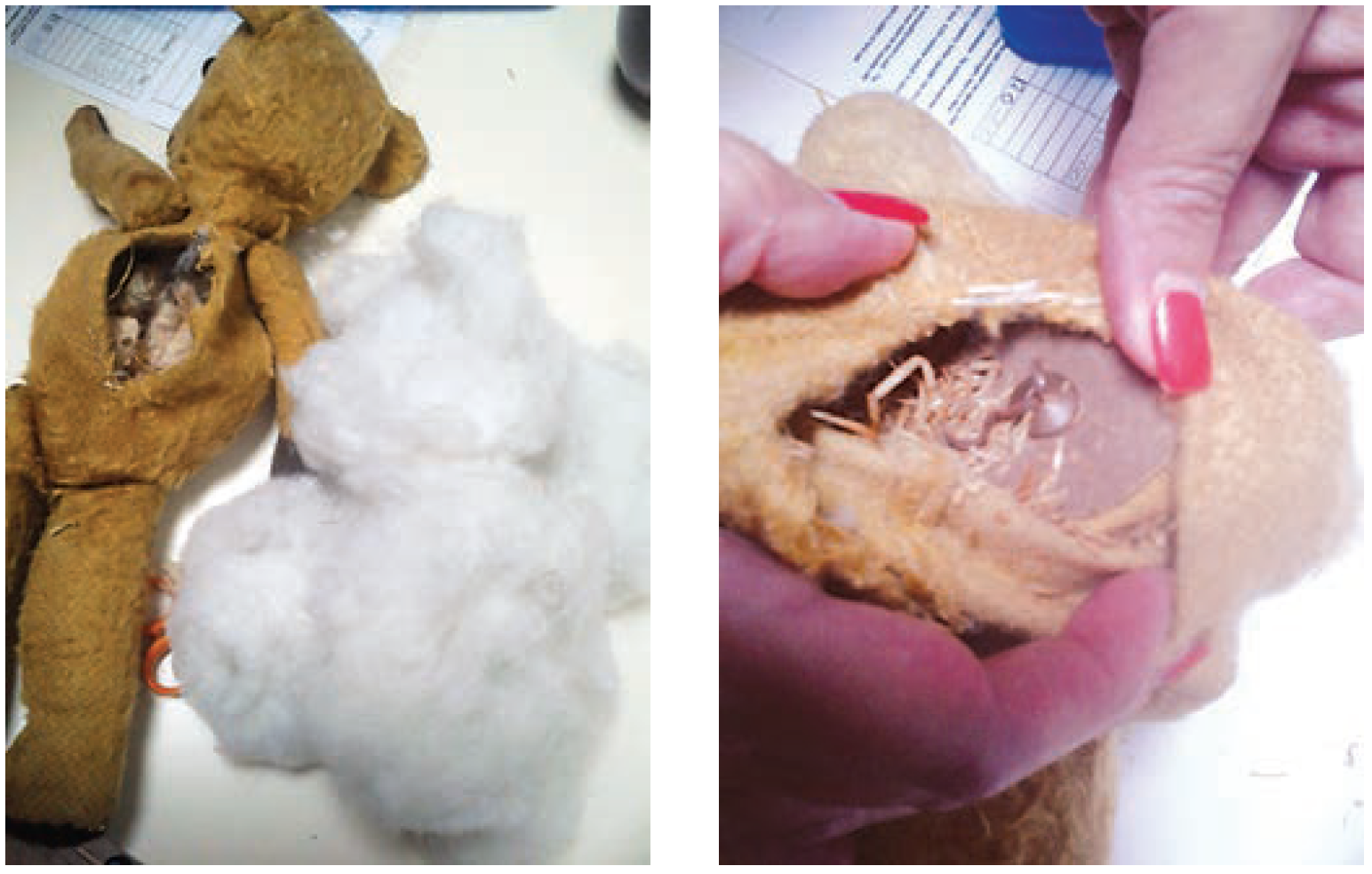 Choosing a restorer for a precious bear can be a risky business - choose wisely and on recommendation if you possibly can.
Bear lover, I have had the most awful experience with a restoration project and I'd like to let this be a warning to you all to be careful when choosing a restorer. Don't let this happen to you!
My story begins when I purchased 'Jim', a 1940's English bear dressed as an RAF officer, as a tribute to my dad in May 2015. I fell in love with him on an auction site and luckily was able to win him with some skilful bidding.
When he arrived a couple of days later from the seller, I was not disappointed with my purchase, as I was aware of the repairs he would need, and he did smell of very stale tobacco, of which I had been warned.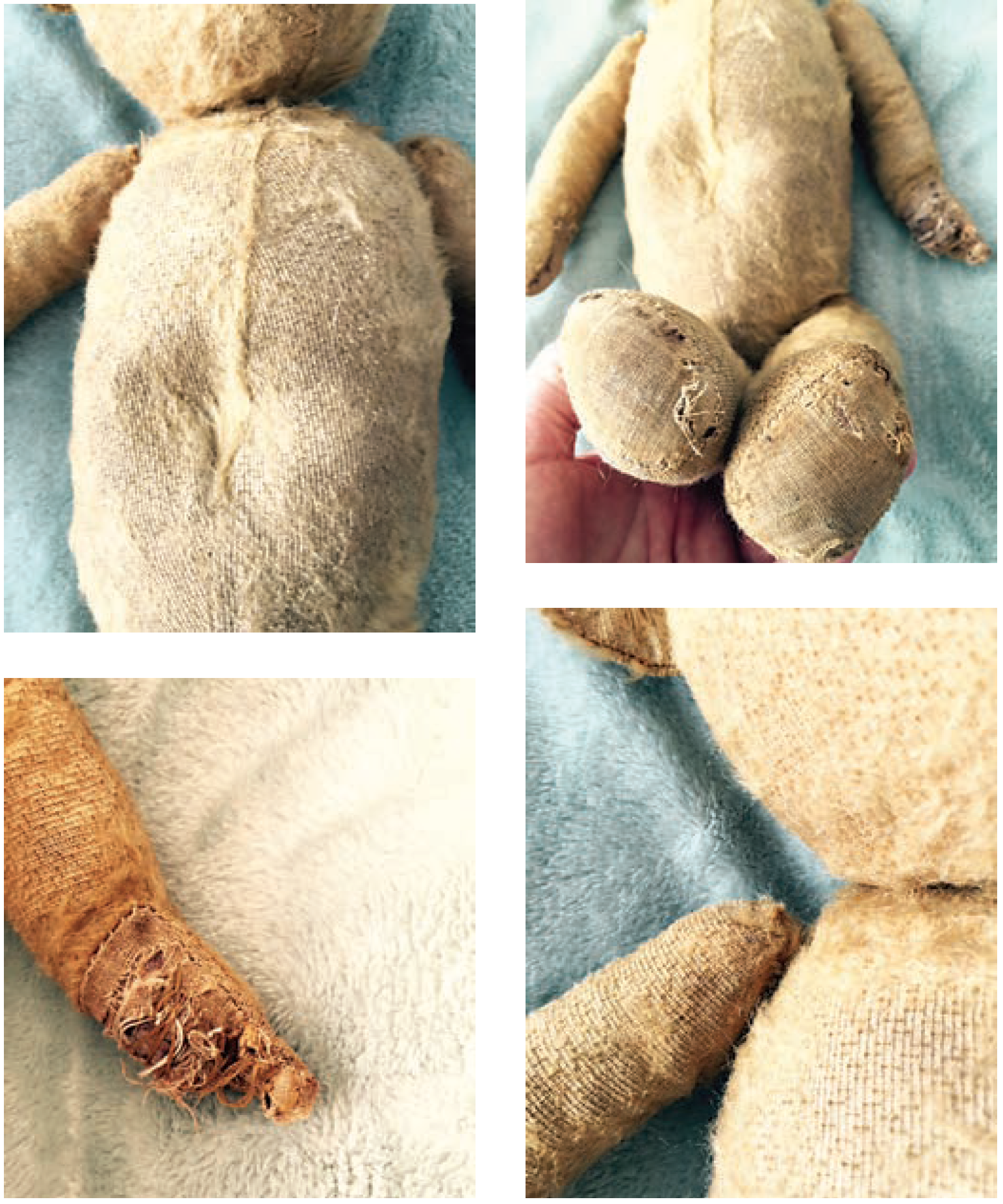 After a few days of Jim getting to know the rest of my hug, I set about locating a reputable restorer. I received various quotes from various restorers and although I didn't choose the most expensive, this restorer certainly wasn't the cheapest either. Consequently Jim was dispatched to the chosen restorer in the middle of June this year. This involved me sending photos of him via text and I was quoted £65.00 to have the repairs completed plus postage.
I was advised that the repair may take from four to six weeks. I asked for a full clean, replacement of all paw pads, replacement Cotter pins in all five joints and some work to be done on an indent on his tummy, where I presumed a growler or squeaker was originally placed. I was also advised that payment was due within seven days of repair otherwise storage of £2.50 per day would be charged and that a courier would be used to return the bear. I received a response stating that the cotter pins could be tightened instead of replaced.
So Jim was duly dispatched on the following day. I hated boxing him up and posting him off as there was always a risk that he may have got lost, so I sent him guaranteed overnight delivery to ensure he was received.
I tracked his journey and he was duly received on the 19th June2015. I even sent the restorer an email acknowledging that he had been received. You can imagine my surprise when four days later, I received an email at around 9pm to say he was ready and that I could pay by PayPal or transfer money into a bank account. I paid within 10 minutes of receiving that email and my response was sent that same evening advising of payment.
On the 27th of June, I had received no response acknowledging my payment, let alone a thank you, so I emailed again asking if Jim had been returned as I was going away in the following few days and would have to advise a neighbour that I was expecting a parcel. Two days later, very late at night, I received an email saying he would be sent at the end of the week, that he was securely packaged and as soon as he was sent I would receive tracking details. I replied that my father in law was staying at my home so no need to worry about getting parcel force to deliver to a neighbour.
On the 4th July Jim still had not been received and I emailed again requesting information. On the 7th July I received an apology saying that the restorer had needed to retrieve him from Gatwick as his box was crushed but he was fine. Apparently a courier had tried to return the bear to the restorer on the 4th July but the restorer was not at home. I requested return by guaranteed overnight delivery via Royal Mail and the restorer offered to refund my £12.00 postage. I declined this as I wanted him back within 24 hours and I asked her to use the refund to do just that.
You can imagine my surprise when receiving Jim, he had not been cleaned, he still smelt of stale tobacco, he had a v-shaped, roughly stitched hole at the top of his head, his closing seam in his back was roughly stitched with white thread that could be seen, his pads were repaired with brown felt and his stomach was padded but the indent was still visible. His arms were still hanging loosely.
I immediately emailed the restorer explaining how disappointed I was and that I wanted my money back. I then contacted another two restorers and one has reported to me that the paw repairs "would do", the bear had categorically not been cleaned, there was a moth casing under the arm that had supposedly been repaired, the stuffing used was not wood wool or kapok, it was another inappropriate filling, the cotter pins in his arms and legs had been accessed but not replaced and, as a consequence of the previous repair, had actually broken.
The hole in his head was apparently cut to access the neck joint and the repair was unacceptable. I now have to wait a further six months to get Jim repaired and obviously incurred further costs. The original restorer refuses to return my money. I personally think they should be stopped from working on our treasured possessions and ruining them. I'm disgusted at this and feel terribly sorry for the person who did the restoration as they clearly are somewhat deluded as to what a repair should be.
PLEASE PLEASE PLEASE don't be fooled by expensive websites and promises that clearly cannot be fulfilled. Don't let this happen to you!